About Us
Now incorporating Nettl of Harrow Web Studio.
In the business since 1982
Now in our 39th year of business, Express Print is an independent print company based in Harrow, Middlesex. We offer our clients, both local and nationwide, a professional and personal print and design service.
At Express Print, we really are passionate about our clients – about you. Our mission is to always put your needs first and to ensure that you're happy with the end result. We understand that every client is different, and therefore each project requires a different and unique approach. We listen. And then we provide our clients with affordable and effective business solutions, enabling them to grow and to stand out from the competition.
We work with you to evaluate every stage of a project, making sure that we give you the best result for your business. Your business is our business!
In January 2017 we partnered up with Nettl and are now able to offer extensive Web Design services to our clients. From brochure websites through to e-commerce websites, we can deliver a more cost effective solution for our clients, helping them to generate greater revenue.
A successful husband and wife team
Nigel Presky
As one half of a successful husband and wife team, Nigel is responsible for Design and Production. He has a wealth of experience and knowledge in the printing and paper industry, having started off his working career at large City printers, Burrup Mathieson plc. From there he went to work for Harkwell Adhesive Labels and in 1982 started his own business, Express Print Ltd. Nigel is involved in all aspects of the business and his in-depth knowledge of print and design allows him to really understand how Express Print can bring added value to your business. He's full of advice and helpful tips.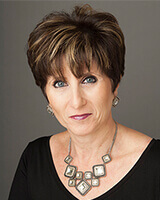 Shereen Presky
As the other half of the husband and wife team, Shereen's personal touch and high attention to detail makes her a favourite with the company's loyal clients. Being a natural born organiser, her sharp-eye for detail, combined and with high administrative skills, means she is an expert in problem solving. Shereen is a perfectionist and will go out of her way to understand her clients' requirements and to offer the best solution.
Express Print is a family run business that caters for both small and large firms. I have dealt with Express Print for almost 12 years and have never had a late delivery or mess up on my orders. They have assisted our firm with many projects from our new logo to printing of our stationery. I find Nigel and Shereen to be very friendly and efficient whilst remaining professional and prompt! I would highly recommend using Express Print. Try them, you will not regret it!
We have used Express Print for items that require printing for in excess of 15 years. As we are a firm of solicitors it is important that our stationery is smart, looks professional and does not contain mistakes. In Express Print we have found a business that is highly efficient, friendly to work with, understands our needs and never fails to meet our demands. We cannot recommend Express Print highly enough.
Alison Smith, Freemans Solicitors
Express Print have always impressed us with their friendly customer service, can-do attitude and ability to meet demanding deadlines.
Howard Morgan, RealService
We have been using Express Print for all our corporate printing for over 20 years, that on its own says a lot. What keeps us coming back is not only the quality of the printing, which is exceptional but the one on one service which makes us feel like a valued customer every time.
Candice Lotter, European Heritage
We have been a customer for more than 12 years and we are very pleased with the quality and speed of service, and more than happy to recommend Express Print – you should make Express Print your first point of call for printing.
Arvid Pedersen, Red Ribbon Asset Management Plc
Let's start a conversation