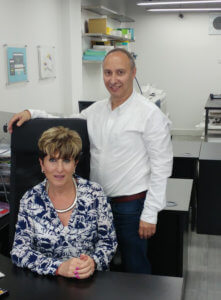 West London-based Express Print this year celebrates 35 years of business. However, rather than simply accepting the plaudits and reminiscing over past glories, the husband and wife team behind this independent print company are putting plans in place to ensure many more years of success lie ahead.
"We're delighted to be celebrating, but in so many ways it feels like we've only just got started," says Nigel Presky, who runs the business with his wife Shereen.
Express Print has always been a family business. Just as the computer age was beginning to change the face of the print business, Nigel's father Harold was made redundant from his job in the fashion industry, prompting the pair to go into business together.
"We felt it was the ideal time to use the knowledge I had picked up working for other printers and open for business at a time when print was blossoming," Nigel explains. "We were confident Ealing was the right location – we had and still do have one of the largest industrial estates in the country on our doorstep.
"I remember the day we opened – my mother was running up and down the street with balloons to drum up some business. And it worked! Orders started rolling in, which all had to be handwritten in triplicate, and we started printing on a couple of single-colour A3 devices. We never looked back!"
Shereen, who had previously allowed Nigel and Harold to take the business forward while she worked as a PA, joined the business some five years later when she left her job. "At that stage I didn't know what I was going to do, so came in to help out," Shereen explains. "I didn't want to step on toes, but we found a way to make it work – probably because our work doesn't really overlap – and I'm still here 30 years later!"
With Nigel looking after the technical and production side and Shereen focusing on customer care and the all-important behind the scenes jobs that help the business to run smoothly, Express Print has thrived. But what do the pair think are the main reasons for their success?
"We've never stopped evolving and we've constantly invested in new technology to keep up with the changing print game," says Nigel. "Our approach is to watch tech development closely and invest when we feel it's ready – in the second wave if you like. That way the others can do the hard work and iron out any gremlins!
"We've also radically changed the business over the years, in line with the changing marketplace. Five years ago, we changed our staffing requirement to give us more flexibility, moving from having in-house staff to utilising freelancers for design. So much of our output had been automated and clients were increasingly supplying artwork, so it made sense to retain the expertise, but for only when it's needed."
Shereen adds: "Reliability is also vital to our success and 99% of the time people get what they want, when they want it. Consistency of service matters and if that means working long hours, we do it. We also have superb attention to detail and will advise customers if, for example, artwork isn't right."
"Customers come first – and if that means having frank and honest discussions with them so be it – although we do feel like diplomats at times! It's about being experts and working together to produce the best product at a competitive price – and that's why we've retained some customers for 35 years."
Looking to the future, Express Print has recently partnered with Nettl, which enables the business to offer extensive web design services to clients.
"To survive you have to keep modernising and we believe this partnership will help us to build business, both on the digital side and in print," explains Shereen. "Print is far from dead – it's just harder to make money from it – so if we can sell to clients on the web development side, other business will follow."
Shereen concludes by saying: "By maintaining our service-led approach whilst evolving our offering, we've got many more years left in us!"